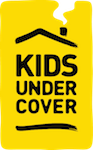 Building a 'Funhouse' to support Kids Under Cover
The Kids Under Cover Cubby House village has been a strong drawcard for visitors to the Melbourne International Flower and Garden Show for many years.
Fairhaven Homes was thrilled to be a part of the 2016 Kids Under Cover Cubby House Challenge, where five building and architectural teams built their dream cubbies. The cubbies were judged by a panel of experts and then auctioned during a fundraising event on the opening night of the Show.
The cubby auction generated $63,200 and was supplemented with a very generous community grant of $40,000 from Gandel Philanthropy.
The Fairhaven Homes team created the "Funhouse", a vibrant and inviting cubby which won the Most Colourful Cubby award. The team used the Fairhaven Homes logo as a starting point to design and build a fun space full of colour, engagement and surprises.
Kids Under Cover CEO Jo Swift thanked everyone who supported the event.
"The Cubby House Challenge goes from strength to strength and is our premier fundraising event," she said. "Proceeds will be directly invested into preventing youth homelessness, through our scholarship program as well as the building of studios to accommodate at-risk young people.
"As well as the entertainment value of the Cubby House Challenge, it also gives us a great opportunity to talk to people about the issue of youth homelessness and the preventative work we do to support at-risk families."